Metail EcoShot - On-model images that help 3D designs to sell
Make it easier for buyers to say YES to your 3D fashion design
Go from design to selling with real-life models in under 24 hours
Use EcoShot® images to bring back context, emotion and aspiration to your 3D
Find out how EcoShot® customers elevate their apparel designs in our short guide
Garment Design
3D designers use EcoShot images as a product design aid to get visual feedback on real models on their desired garment prints, colours and styles. Being able to see a garment on a person helps the designer to assess and express their design intent and if needed, make enhancements and changes as they are developing their concepts.
Line Approval
Teams making decisions about future collections find on-model presentations of 3D styles easier to review because of the realism of seeing their garments on models. The selection process is made easier by having enhanced visuals without avatars distracting from the new designs.
B2B Selling
Showcasing styles to buyers makes it necessary for manufacturers and brands to present their collections in an effective and appealing way. With the need to be more sustainable and agile, working from anywhere in the world, 3D sales sampling is now a necessity and EcoShot Model images are unrivalled in presenting the best true-to-life 3D garment-on-model assets that buyers can rely on.
Packaging and Display
Long lead times needed for photo sample photography for packaging and display purposes can mean delays in getting products to customers and ultimately affect sales volumes. EcoShot Model Images already created by 3D Design teams can be re-used for packaging and display, transforming a brand's workflow into an easier and efficient way of generating assets for their customer-facing outlets.
Marketing
Creating catalogues and showroom assets usually means a lot of time spent by the marketing teams waiting for product images or rushing to complete projects. With a click of a button, EcoShot images can be produced as soon as 3D designs have been approved, many weeks ahead of photo sample production. This removes logistical hassles and frees up the marketing team's resources for other creative campaigns and new channels such as AR-enabled promotions.
eCommerce
EcoShot offers a library of diverse models, as well as children, with pre-approved licenses for use in all applications including e-commerce. Brand ecommerce teams can also choose to use Metail's MeModel® digitisation service to create EcoShot images on brand models of their choice. EcoShot gives e-commerce teams the ability to easily show new colourways and styles or increase their variety of models without the hassle and expense of organising physical photoshoots.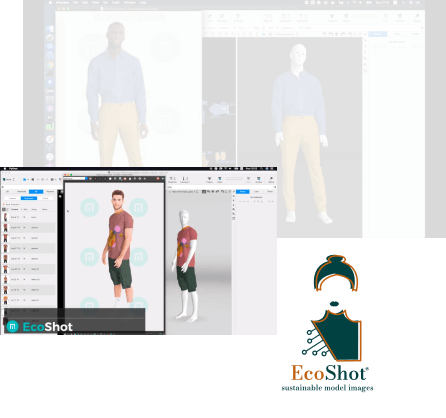 EcoShot is a powerful visualisation tool that helps designers create imagery to communicate their 3D garment designs with confidence.
EcoShot is the designer's virtual photo studio, making it easy to create true to life garment-on-model imagery, to show 3D clothes on real people. It is a quick way to elevate design presentations compared to using avatars and ghost images.