Metail talking about music and comedy festivals is probably not what you'd expect from a tech start-up focused on digitising and visualising people and clothes together. It is therefore probably worth explaining what led us to consider festivals before describing our latest AR virtual try on project with Sound & Vision.
It all started from thinking about music shows and remembering how there is usually a stall selling clothing merchandise for the artist. You might even have a t-shirt or hoodie for your favourite artist lurking in the back of your wardrobe. Here is a J Dilla Donuts t-shirt I found in my cupboard.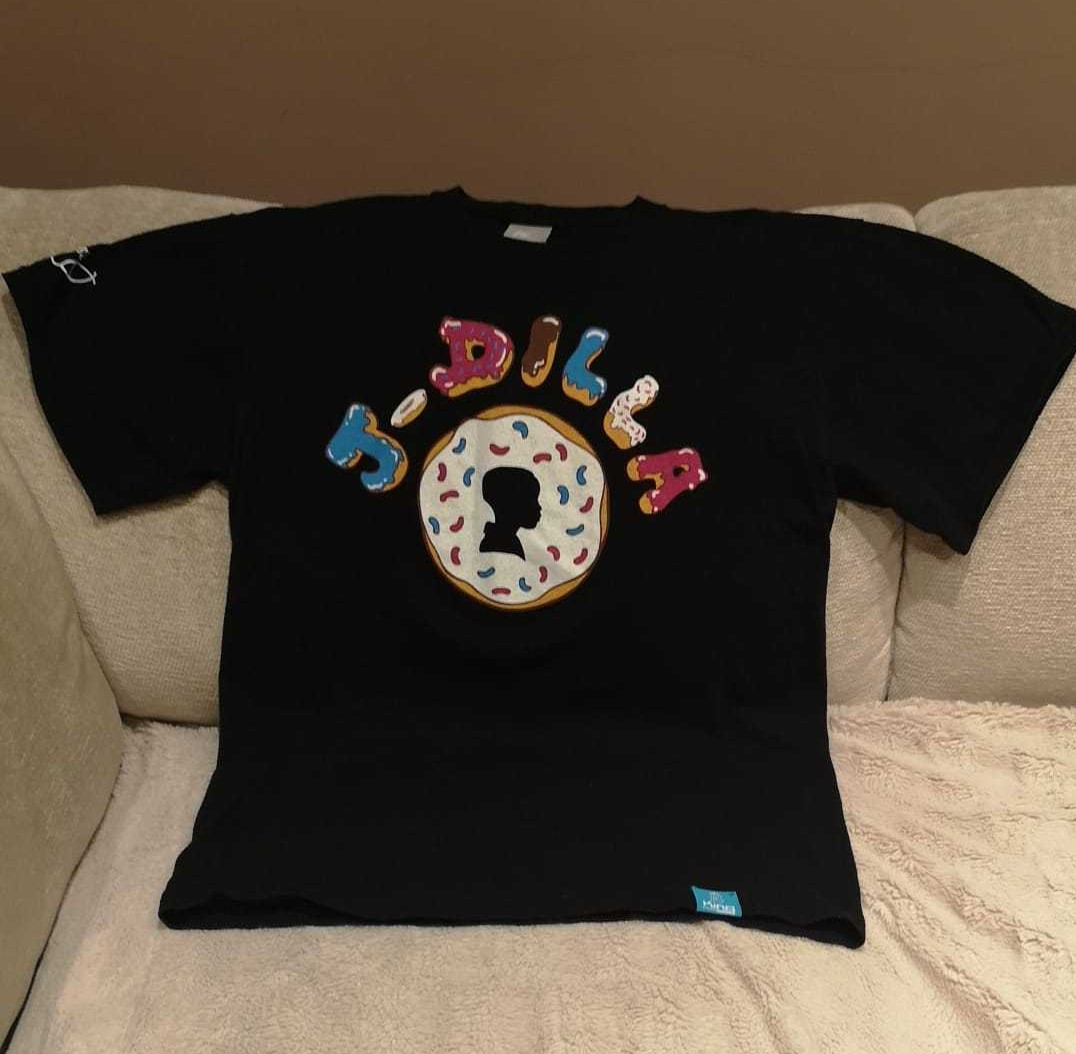 Because this kind of merch is often specific to the tour / album, we figured that predicting demand and managing inventory must be difficult, and that it's likely quite a lot of garments are left unsold and unworn (which we hate at Metail!). It made us start wondering…
"What new opportunities could be enabled if Metail digitised this kind of physical merchandise and created virtual versions of it?"
And also…
"We need a shorter, more catchy way of referring to virtual merchandise before we can really get going with our ideation"
"Verch" seemed to fit the bill perfectly!
Offer consumers verch alongside merch!
Promote your event ahead of time with photos of attendees wearing verch.
Reduce physical merch waste with verch.
We found it easy to come up with ideas that seemed exciting to us, but the real test would come from learning how organisers of in-person music gigs and festivals choose to use verch.
Thankfully, Snap's GHOST AR Innovation lab has allowed Metail to start exploring new areas like this. Metail was selected by Snap as their first Shopping and Fashion GHOST fellow last year. The support from this superb program by Snap is enabling Metail to embark on new Augmented Reality experiments like this.
Sound & Vision + Sustainability
Luckily, it didn't take us long to find an event to experiment with thanks to some friends at Sound & Vision. Their mission is to amplify and inspire the exciting new creative talent that exists in each and every city across the UK. They are currently shining their spotlight on Cambridge which aligned nicely with Metail as most of our team are also based in Cambridge. Sound & Vision's Cambridge festival took place across 8 stages, 3 days and 3 nights in April and featured over 70 new and established acts from the worlds of music and comedy.
Sound & Vision's sustainable approach to merchandise meant that we were even more excited to work together. To promote their festival, they had created six eye-catching t-shirt designs. Rather than running the risk of unsold t-shirts ending up in a landfill, they made the t-shirts available to buy on Teemill instead of printing the t-shirts in bulk ahead of time. This means that the t-shirts are printed on-demand only when a customer makes a purchase so no unsold inventory waste. In addition, Teemill t-shirts are made from organic cotton, their factories are powered by renewable energy and their garments are designed to be returned to them when worn out. Teemill can then recycle the returned garments and turn them into new products. These are some of the reasons Teemill has succeeded in making the UK's first working Circular Economy for Fashion.
Sound & Vision's sustainability focus meant that one of our pitches for Verch quickly resonated with them….
"Love the idea of a gig t-shirt but hate the thought of unwanted merch ending up in a landfill? Give your festival go-ers the option of being photographed in verch rather than merch with a t-shirt AR try on lens to promote your event and reduce the risk of waste"
Sound & Vision quickly jumped on the idea. They wanted to feature our t-shirt AR try on lenses on their Teemill site as a way of helping consumers to understand if they wanted to buy the physical festival merchandise. It was interesting for us to learn that this was the initial application which a festival organiser saw for verch. Our initial thought was that organisers would want to use verch to help promote their event ahead of time and generate additional ticket sales.
Creation of Sound & Vision's AR Try On Verch
Having secured our first festival partner, we moved onto creating the AR try on verch for Sound + Vision. The Augmented Reality platform we chose was Snap's Lens Studio. Part of the reason for this was our participation in GHOST but the bigger driver of this decision is the feature set offered by Lens Studio. From our experience, Lens Studio is leaps and bounds ahead of other AR platforms when it comes to including foundational components required to create more realistic AR Try On of clothes. Features such as:
3D Body Tracking
External Body Mesh
Cloth Simulation
Body Colliders
Body Occluders
Upper Garment Segmentation
Import Your Own ML Models
This meant that the decision to use Lens Studio was a no-brainer for us as its features make it the best AR platform to create more realistic AR try on experiences. We also used the project as a chance to test another feature Snap has included: in-painting via their Eraser Post Effect VFX asset. Although we quickly learnt that this particular feature might not be suitable for outfits which don't cover the whole body like t-shirts…check out Samson's magician hands appearing at the bottom of his invisible arms!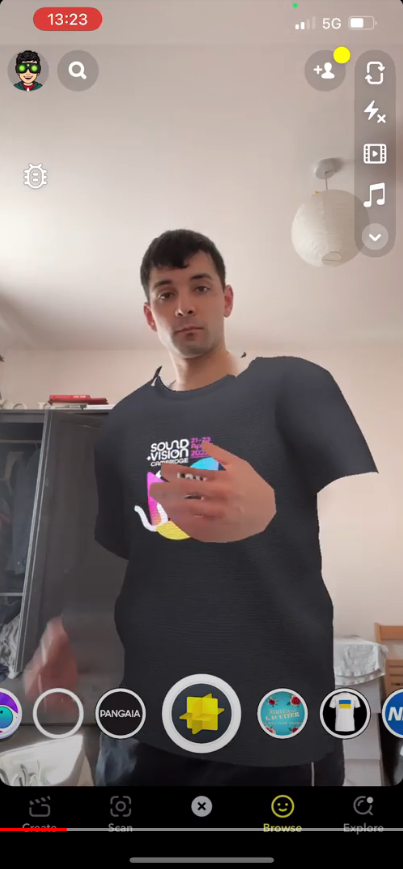 As this AR lens was for a festival we felt we needed to do something more than just providing a regular apparel virtual try on experience. After much creative brainstorming, we decided to introduce…
The Party Mode Toggle! 🎉🎊💃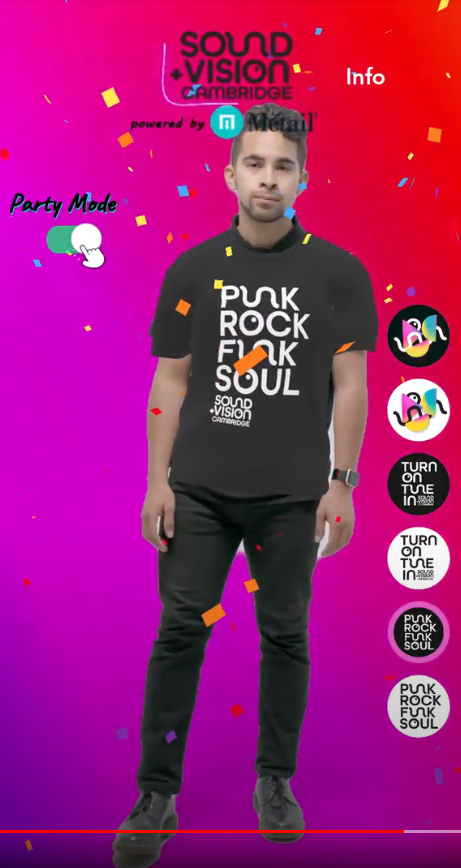 You might be able to tell that we are a bit more tech-focused than creative! But we did enjoy doing something a bit different to our more utility-virtual try on AR experiences. Realism is a big topic at Metail and we're always trying to explore how we can make AR virtual try on experiences more realistic. Our participation in Snap's GHOST fellowship has given us early access to some really great new features that will be included in Len Studio soon and which really adds to the realism of AR try on experiences in Snap lenses. Sadly we weren't able to add them into our Sound & Vision lens because they are not yet publicly available. But if you're interested to learn more about these features, stayed tuned for the Snap Partner Summit on 28th April 2022 where more will be revealed!
The final feature we implemented for the first time was a Call-To-Action button which, when clicked, allows us to let users go from an AR lens inside of Snapchat to a URL of our choice. This is again another early access feature which Metail has access to. We're looking forward to Snap opening up this capability to everyone as they have made it incredibly easy to implement. Once our Sound & Vision AR lens was approved by Snap, we were able to the 'My Lenses' web-based interface to select a pre-defined Call-To-Action label names ('More' in our case) and then add our desired URL.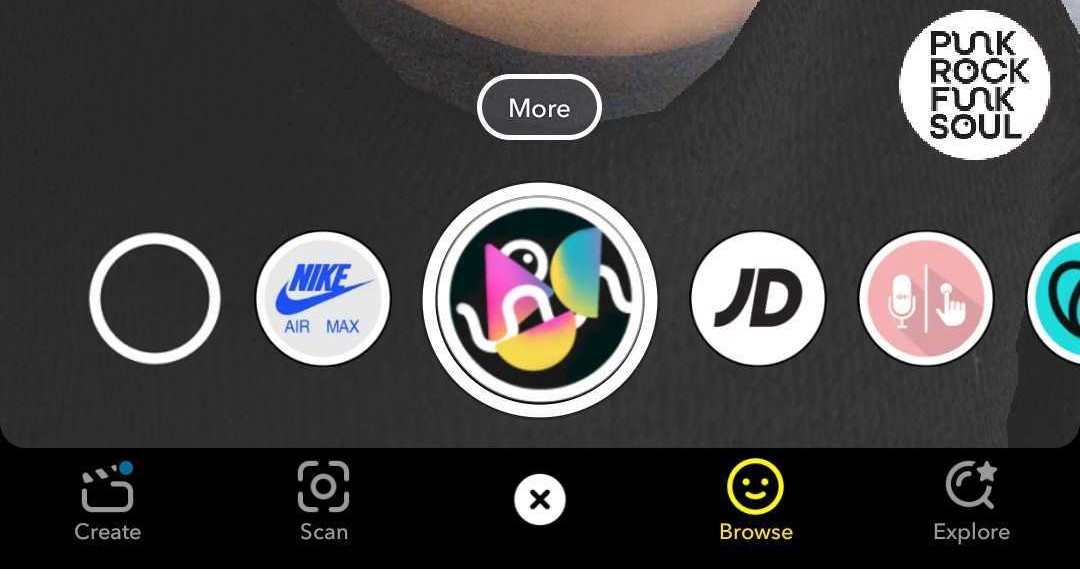 The Resulting Verch + Learnings
Although it required a quick turnaround time, our team was able to create the AR try on Verch in time for the Sound & Vision festival. You can try it for yourself on the Snapchat app on your phone by either clicking this link or scanning this Snapcode inside the Snapchat app: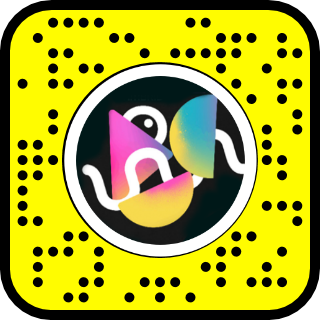 As mentioned earlier, we were slightly surprised that the first way Sound & Vision wanted to use Verch was to highlight their physical festival merchandise rather than marketing the festival. Snapchat wasn't a focus channel for Sound & Vision's social marketing team, perhaps because Snapchat's reach and conversion performance isn't well understood?
We still think Verch + Augmented Reality has great marketing potential to drive awareness and ticket sales for festivals for a couple of reasons:
Snapchat averages over 250m people engaging with AR each day and has 75% penetration in the 13-34 year-old age range
The AR features available on Snapchat give scope for some really creative campaigns
Imagine letting people on social media select their favourite headliner from this year's line up and then see themselves on the festival's main stage, next to the headliner whilst automatically wearing this year's festival merch…
Would people choose to record and share this with their friends on social media?
Would these surprises help drive awareness and sales for the festival?
We're excited to learn if Verch can be used to help festivals and live events this way in future projects.
If you are a festival organiser and are interested in exploring how Verch can be used to promote your festival, do get in touch via the contact form on our Augmented Reality page.
An Unexpected Surprise
For people who are not familiar with publishing AR lenses on Snapchat, another great feature which Snap provides for free is Lens Insights. Lens Insights provides comprehensive analytics about how your AR lens are performing including:
Breakdowns of your lens Audience in terms of age, gender, OS, country and top interests
Time series of Engagement with your lens by day in terms of Plays, Views, Share and Favourites
Engagement Funnel Analysis
Time series of Conversion for any included Call-To-Actions
Given that Sound & Vision is a UK festival, the audience we had in mind for our Verch AR Try On lens was people based in the UK. Thanks to Lens Insights we also noticed that users in another country also seemed to enjoy playing with our Verch lens…

Over 100,000 lens plays coming from India within the first week 🤯🤯🤯!
Part of the reason this blew our minds is that we're not aware of any promotion of the Sound & Vision lens to people in India. Instead, something in Metail's AR Verch lens must clearly resonate with Snapchatters in India and is driving this huge amount of engagement.
When brands think about virtual try on, they normally think that the role of virtual try on has to play is to communicate the product and its fit. Metail's 10+ years of experience with virtual try on has made us appreciate that the virtual try on benefit which consumers often enjoy the most is engagement and fun. Despite us knowing this, we were still taken aback by these results in India. The incredible speed at which these large numbers were achieved gave us a useful reminder of how powerful virtual try on can be once broken out of the usual eCommerce association and combined with social media. And especially so in India it seems! We're really looking forward to experimenting and learning more about this exciting market.